7-inch 4-segment split 4G truck 360-degree vehicle surveillance camera
Product selling points and advantages
A 7-inch 4-segment car monitor that can remotely video and locate remotely on computers and mobile phones. 4 channel GPS WiFi 1080P AHD HDD mobile car DVR MDVR video recorder. Car camera 7-inch 4-segment split 4G truck 360-degree vehicle surveillance camera, just for your safety.
· Wiring through a 4-pin connector to make it tighter. [Intercom] There is an intercom port on mdvr, if the intercom handle is connected, it can intercom between the car and the CMSV6 system platform. [USB] Support video backup via USB slot. Support to connect the mouse to the USB slot. [Gravity sensing] Recognize sudden movements, such as violent acceleration, sudden stop, acceleration and impact. You can set up alerts to keep these records as events.

· [Real-time video remote viewing]: DVR is connected to the car WiFi hotspot. View and download videos remotely. Very suitable for fleet management! Support real-time view on PC, web and IOS/Aandroid smartphones. Free server. [Real-time GPS tracking] Record (and remotely view) the speed and location of the vehicle, as well as the route of the camera and the vehicle. [HDMI output] MDVR with HDMI output can connect HDMI input with TV or monitor with the following functions.

· [LOOP RECORD]: 4-CH 1080P (720P / 960H / D1 / CIF for selection) real-time recording. Continuously record the synopsis of the camera, and cycle to display the oldest record when the storage space is full. Support 2 SD cards and 1 2.5 inch SATA HDD/SSD. (Max 512GB x 2, 2TB x 1 HDD / SSD. The unit price does not include HDD and SD). [Play] Support video playback on MDVR. Free PC software for recording the recorded video on the PC, and remote playback of the video and GPS tracking on CMSV6.

· [Excellent Camera]: IP69 waterproof rating, can be used directly outdoors. Infrared LED night vision device. All metal shell material, Real 2.0MP HD resolution. Use SONY SENSOR, 4MP HD lens. We conduct waterproof tests on each camera. 7" The car screen is a VGA interface. Screen resolution: 1024 * 600. [Mirroring] You can operate mirroring through the OSD menu, and you can set any channel of horizontal, vertical or vertical images. [Motion detection] Supports setting motion detection alarms, motion detection The function is turned off.

· [Delayed recording]: Record the video when the vehicle is turned off-up to 24 hours (take electricity from the battery). – If the DVR is completely powered off (to take power from the built-in capacitor), protect the data for 8 seconds [4-CH ALARM INPUT]: Support 4-CH alarm input, after receiving the trigger signal, the screen will automatically display the full screen of one channel. Manually create alarms to overwrite related recordings.
1080P 4-CH Mobile DVR Camera System
The integrated monitoring system includes:
· 1 4CH 1080P HDD GPS WIFI mobile DVR host
· 4 x 1080P AHD NTSC mode car camera
· 1 x 5m aviation wire, 3 4-pin cables, 15m aviation wire, 1 4-pin cable.
· 1 x 7 inch IPS VGA car monitor.
· 1 external microphone to record audio
· 1 MDVR accessory.
· 1 x User Manual
· Note 1: The unit price does not include SD card and HDD.
· Note 2: If you need a longer cable. (It takes about 4 working days to ship from China)
· Note 3: We also have a miniature car camera without infrared light. Display color images in night vision.
· Note 4: We have 9-inch or 10-inch monitors to choose from.
7-inch IPS VGA monitor IPS screen. It can obtain clear images from any angle.
The resolution is 1024 * 600. It displays high-definition images on this screen. Adjustable color and contrast.
It is easy to install, high-level aviation interface, convenient installation, better shockproof performance, and more stable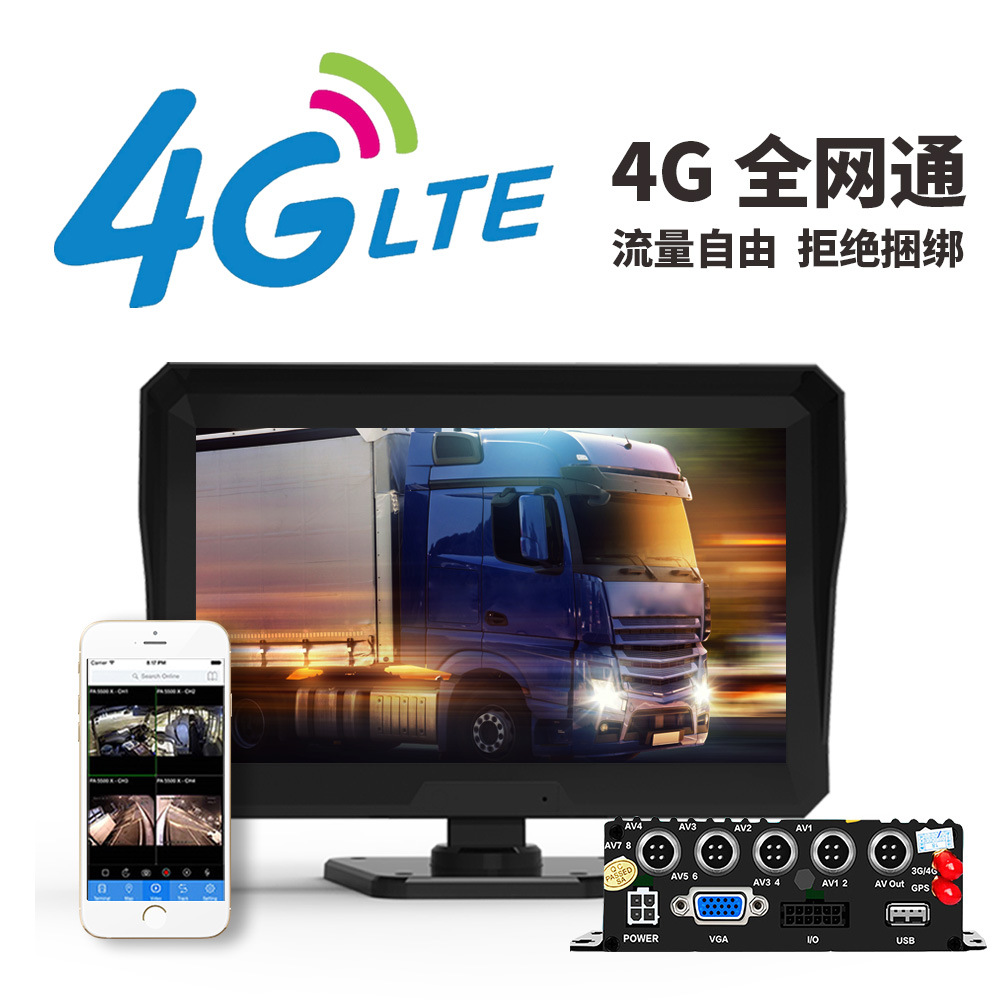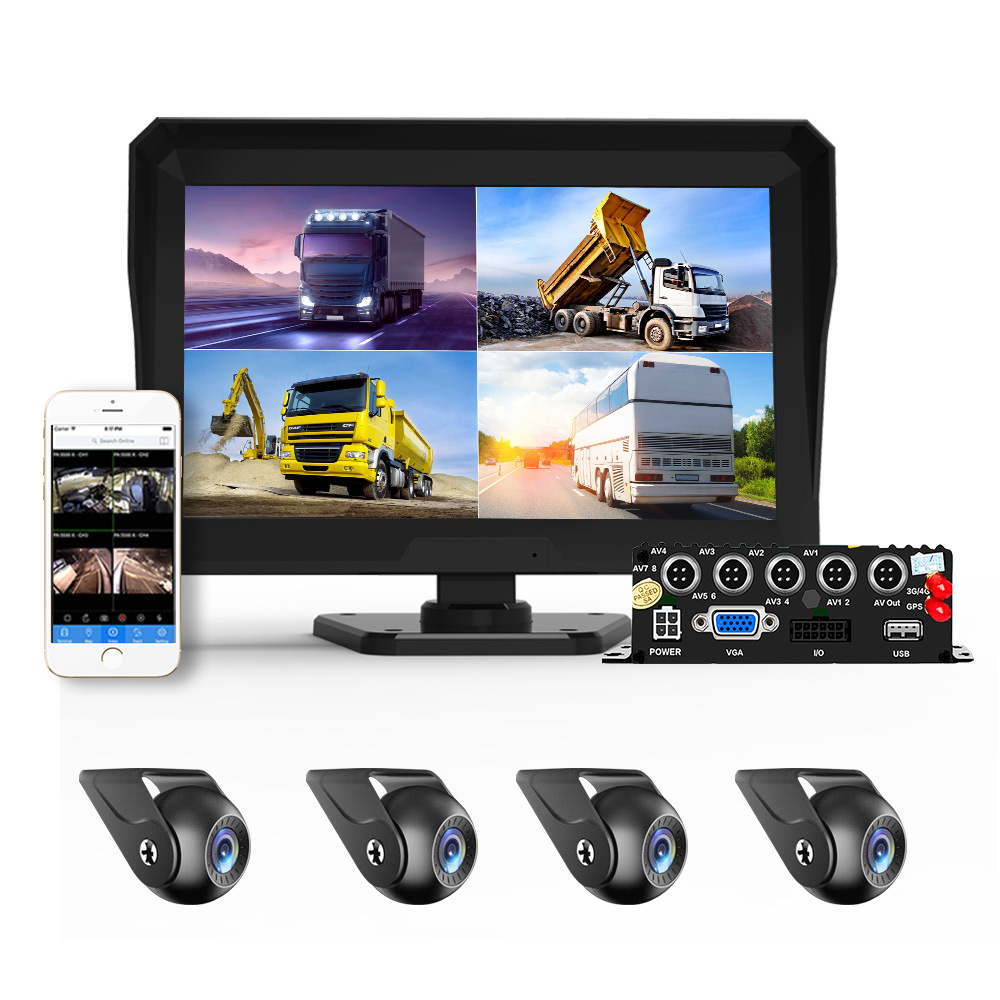 Real-time GPS tracking
Built-in GPS module. Record GPS tracking and speed in real time.
Record (and remotely view) the speed and location of the vehicle as well as the camera and the route the vehicle travels.
We provide free playback software (only run on Windows PC). It can replay the track and speed on the software

IP69 waterproof camera
The AHD camera is dustproof and waterproof, and is equipped with a durable casing. Not afraid of snow, rain or heat.
The operating temperature range of IP cameras is -4°F to 122°F (-20°C to 50°C)

Night vision
With 3.6mm LED with IR-CUT function, 90° viewing angle, 50 feet night vision range.
In low light conditions, the camera's infrared mode will automatically activate. Even at night, it can clearly monitor everything

Delayed shutdown
Record video when the vehicle is off-up to 24 hours (consumption of power from the battery). You can set up to 24 hours delayed recording and delayed shutdown.
8-second power-off delay-if the DVR is completely powered off (drawing power from the built-in capacitor), the data is protected for 8 seconds.

G sensor
Recognize sudden movements, such as violent acceleration, sudden stop, acceleration and impact. Alarms can be set to keep these records as events

Sony sensor
Use SONY IMX323 Ensor, and 6-layer HD lens. The camera can obtain the best quality 1080P video.
High-quality chips have better WDR functions. Clear images can be obtained under any lighting conditions.

Real-time video remote viewing
The DVR is connected to the WiFi hotspot in the vehicle. When the vehicle is driving, remotely view and download videos. Very suitable for fleet management!
Download the free application "CMSV6" from Android Google Play or Apple App store to your mobile phone; or install the CMS software "CMSV6" to your Windows PC/laptop. It can also be accessed remotely through the web


FAQ

Where can I find the wireless camera with this setting?
Answer: No, this is a wired system. It is a real 1080P ahd video, and the wired system is more stable while driving.
mdvr has GPS and wifi modules. It supports remote real-time view video location tracking from phone/PC/webpage

Is there a bigger screen?
Answer: Yes, 4G WIFI 4 split car camera monitor. We also have 9 inch and 10 inch VGA monitor, 1024 * 600 HD resolution, IPS monitor for customers to choose

How can I reset my password?
Answer: Have you forgotten the password of CMSV6 or mdvr menu?
1. If you have forgotten the password of CMSV6, please contact us via email, tell us the username of mdvr, and we will reset the password to 000000

Can you download videos via a direct wifi connection (from device to mobile device), or can you download videos via the Internet?
Answer: It can directly connect to wifi to download videos
Hot Tags: 7-inch 4-segment split 4G truck 360-degree vehicle surveillance camera, Quality, Customized, Factory, Made in China